CARS FOR SALE NOW, Continued
"Highbouy" BOATTAIL SPEEDSTER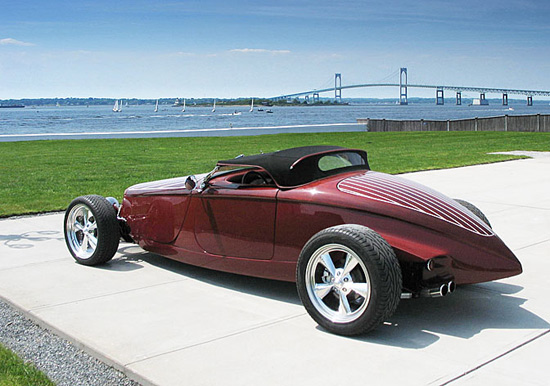 Originally designed as a full fendered car, we wondered if the DECO RIDES Boattail Speedster would "work" as a highboy (definition: body sitting on top of frame rails with no fenders). Due to the long 128-inch wheelbase, we felt normal sized wheels would appear as tiny "shopping kart" wheels. We put a large set of wheels and tires on the car and rolled the first Boattail out of the shop. It looked great, so in early 2005 DECO RIDES commissioned Superior Custom Classics in Hudson, FL to build this car. SCC (Superior) has built a number of killer cars including Tom duPont's incredible Zephyr sedan delivery plus a gaggle of other Deco Zephyrs including the orange coupe that won the highly coveted Masters Entertainment Street Rodder TV, Street Rod Of The Year 2004 Award, (determined by voting from the public, not the usual "politics".) The Brandl family (Superior) consistently turns out top quality cars. They are even building one for Don Garlits.
We purchased a wrecked 1997 C-5 Corvette, had Ram's Rod Shop in Dover, DE strip away the parts we didn't want/need, and the 'Vette ended up in Hudson, FL for the Brandl family to attack. We supplied the C-5 'Vette, a 1937 Studebaker for the frame, a Fat Man Fabrications front suspension, wheels and tires, a Dick Rodwell/Stanley Wanlass Salt Lake Rodware windshield, an Alumicraft grille and a Deco Rides Boattail body. Superior did the rest. Normally we retain close control on construction of our projects, but other than design direction, we had so much faith in Superior that we let them have almost free reign on most of the construction. We trusted them and we're happy with the result.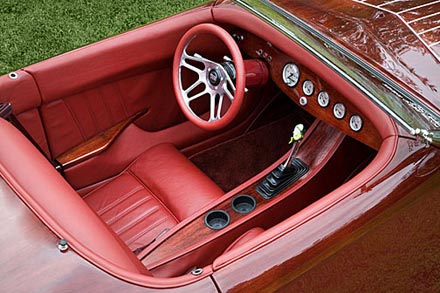 Since having fun with cars is a big part of our mission in life, from the inception of the project we thought it would be fun to make the Boattail look like a vintage wood speedboat. The idea was to adhere wood veneer to the top surface of the body and add the white calking lines to make it look like an old Chris Craft from the 40's. We approached Van Dam Boatworks in northern Michigan re: this phase of the project but their price estimate was simply too exorbitant. Then we planned to use Cliff McKillop of The Good Stuff Paint Company in Rochester Hills, MI to do the job, as he is a highly respected "wood look" guy with more reasonable prices. But because that would have required taking the car out of the FL shop and transporting it to MI for a month, then transporting in back to FL, and because we wanted to have the car done for the Detroit AUTORAMA in early March 2006, we chose another artisan. Strictly by coincidence, and as an incredible stroke of luck, we found out that Melissa Brandl, wife of Rich Jr. (who built the majority of the car at Superior), has been refinishing furniture and kitchen cabinets for her livelihood. We asked her if she wanted to tackle the job (which would save us months plus a round trip to Michigan) and gladly, she accepted the challenge.
Melissa used 1/8-inch thick, 48-inch wide sheets of oak veneer (real wood) and bonded them to the top surfaces of the DECO fiberglass Boattail body using contact cement. Armed only with veneer tool and a heat gun, she did a great job of patiently contouring the sheet oak to the sometimes compound curved surface. Next the oak was sealed, then Bombay mahogany stain was painstakingly applied by Debbie and Melissa Brandl to darken the color and bring out the rich grain. Rich Brandl Sr. and Terry Cook laid out the calking design on the hood and deck surfaces. It was masked and sprayed white by Car Classics of Port Richey, FL, who also did the bodywork prep for paint and sprayed the rest of the car maroon.
"Highbouy" U.S. TOUR
Thanks to a lot of thrashing by Car Classics and Superior, the car did make the deadline and appeared at the 2006 Detroit AUTORAMA. This includes the interior by Superior. Thanks to Jimmy Webber and Frank Narcisi of Superior who were part of the flog. Also special thanks to Mark Campbell and the guys at Street & Performance in Mena, AR who worked weekends to help us solve the 'Vette computer puzzle.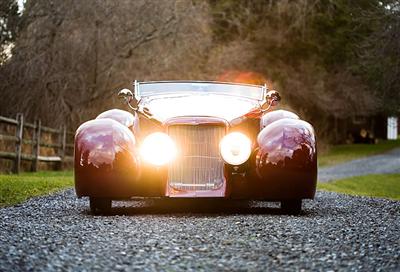 We like to design "different" cars that look right, and we caught a lot of people by surprise with this car (which is something we love to do). The reaction was very positive. In March 2006 we attended the Mt. Dora, FL Classic Wooden Boat & Car Show (all wood boats & woodie cars) which was a hoot. The car was then delivered to Steve Pierce of One Off Technologies in Guilford, NH. He replaced the interior with one that positioned the occupants considerably lower so their eyes were looking out the center of the windhield. He designed and constructed a beautiful low profile lift-off convertible top that folds up and stows away in the trunk. The last weekend in May we attended the Newport, RI Concours d'Elegance. We also took photos of the car parked next to Mark Mason's incredible IMSHI vintage wood racing boat at NEW ENGLAND BOAT & MOTOR in Laconia, NH.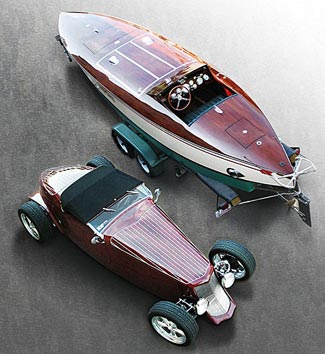 June is going to be a busy month as we plan to tow to Troy Trepanier's Rads Rods shop in Mantino, IL on the 7th for the Bar-B-Que. There we will hook up with Andy Brizio and his band of merry roadster guys to go on to Indy Goodguys that weekend. At present the Highbouy is at Gary Brown's Metal Mods where a newly designed set of fully enclosed front and rear pontoon fenderws are being added to the car. We will either have the remodeled car at the Mideast International Auto Show in Abu Dhabi or might have it on display in a vendor booth at the barret Jackson Scottsdale, AZ event followed by a car display exhibit at the Grand Natuonal Roadster Show at the Pomona Fairplex in early 2007.
Stay tuned for the further adventures on my blog, which will hopefully come back to life immediately.